At AfricaRead, we are at the heart of ensuring that the desires and tastes of our writers and readers are rightfully met simply with less or no stress at all. The hassles one goes through to get a good book to read especially in these times and seasons of C-19 have been taken care of. Thanks to AfricaRead. Follow the lead below to successfully purchase a book from AfricaRead from the comfort of your location.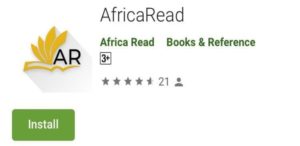 After downloading and installing the reading app onto your mobile device, if not download it now https://bit.ly/AfricareadApp
Click on the AfricaRead icon displayed on your mobile device to launch it.
Select the option that says 'sign in to start reading' to proceed as a new user.
Simply sign in by clicking on the google

A list of emails available on your device will pop up, tap on your preferred email address to enter the app.
Welcome to the homepage of the app. Tap on the Bookstore icon beneath the homepage to select and buy a book from the app.
For easy identification of the book, type in the name of the book into the search box to locate it.
Click on the cover of the book to select it.
Click on the get this book tap to purchase the selected book
It opens up to the payment page, where you will be required to choose your preferred payment method either with a Card or MoMo.



Buying Books with Card
Tap on the 'pay with card'
Enter your card details and click Pay (amount)
Wait for a few seconds for book to be downloaded.
Buying Books with Mobile Money





– Tap on the pay with Mobile money/Mpesa option
– Enter your mobile money number and choose your service provider network. (i.e. MTN, Aitel/Tigo, Vodafone, etc)
–  Press confirm and wait for a prompt to authorize and complete payment on your mobile device
After authorizing payment, wait for a few seconds as the book gets downloaded.




Great! That was simple. Book is successfully bought and downloaded ready to read offline too. You can get back into the app anytime to locate all your downloaded books on your bookshelf simply by clicking on the bookshelf icon beneath the homepage.